[trx_section]
Blue Ridge Institute Conference
July 22, 2018 – July 27, 2018
What's going on?
Conference Presenters[/trx_section]
[trx_block bg_color="#ffffff"][trx_columns][trx_column_item]
[trx_image url="3544″ align="right" width="400″ height="400″]
[/trx_column_item][trx_column_item]
Tony Porter is an author, educator, and activist working to advance social justice issues and Chief Executive Officer of A CALL TO MEN. Porter is internationally recognized for his efforts to prevent violence against women while promoting a healthy, respectful manhood. He is a leading voice on male socialization, the intersection of masculinity and violence against women, and healthy, respectful manhood. Porter's 2010 TED Talk has been named by GQ Magazine as one of the "Top 10 TED Talks Every Man Should See."
Porter is an adviser to the National Football League, National Basketball Association, National Hockey League and Major League Baseball, providing policy consultation, working extensively with player engagement, and facilitating violence prevention and healthy manhood training. He is an international lecturer for the U.S. State Department, having extensive global experience including Brazil, India, and Africa, and has been a guest presenter to the United States Military Academy at West Point and the United States Naval Academy at Annapolis.
[/trx_column_item][/trx_columns]
He is sought after for his in-depth understanding of the collective socialization of men, and has served as a script consultant for the Emmy Award-winning television series "Law & Order: Special Victims Unit." Porter is the author of "Breaking Out of the Man Box" and the visionary for "NFL Dads: Dedicated to Daughters."
[/trx_block]
[trx_block bg_color="#ffffff"][trx_columns][trx_column_item]
[trx_image url="3543″ align="right" width="400″ height="400″][/trx_column_item][trx_column_item]
Dr. Debra Nixon has more than 30 years of community service, corporate training, and coaching experience. A social scientist, researcher, former university psychotherapy professor, and diversity and inclusion expert, she helps organizations and companies navigate through tough leadership, diversity, and organizational development challenges. She's appeared on CNBC, FOX, and many local, regional, and national media.
Dr. Nixon retired from academia to dedicate herself to helping global corporations, CEOs, and spiritual and business leaders who are committed to not only making a difference in their organization, but also the world.
* * *
[/trx_column_item][/trx_columns]
"Dr. Nixon's credentials are just part of the equation that validates her expertise. It is her gift of superb interpersonal skills that allow her to navigate sensitive topics while motivating her audience to engage in candid and productive discussions. Quite frankly, she is the real deal!"
Drew Berry, Emmy-winning President & CEO of Drew Berry & Associates
[/trx_block]
[trx_block bg_color="#ffffff"][trx_columns][trx_column_item]
[trx_image url="3628″ align="right" width="400″ height="400″][/trx_column_item][trx_column_item]
Regina is a partner at the law firm of Wolf Haldenstein where she practices securities, consumer and federal civil rights litigation. Prior to joining Wolf Haldenstein, she served as Executive Director to two of the New York State Governor's statewide investigatory commissions, Deputy General Counsel to the New York State Insurance Fund, Chief Deputy to the Suffolk County Executive Steven Bellone, Deputy General Counsel to the New York City Employees' Retirement System, Director of Intergovernmental Relations to the New York City Comptroller and a partner in a securities litigation firm.
Regina Calcaterra's memoir Etched in Sand, A True Story of Five Siblings Who Survived an Unspeakable Childhood on Long Island (HarperCollins Publishing, 2013) is a #1 international best-seller and a New York Times best-seller. As a result of Etched in Sand's messages of resilience, optimism, the plight of foster children, that no child is a lost cause and how we can all positively impact the life of a child in need, it has been integrated into college and high school curricula throughout the U.S. and been selected for community reads.
[/trx_column_item][/trx_columns]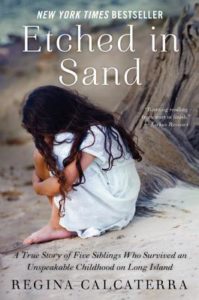 She is also co-author of Etched in Sand's sequel which she wrote with her younger sister Rosie Maloney, Girl Unbroken, A Sister's Harrowing Journey from the Streets of Long Island to the Farms of Idaho (HarperCollins Publishing, 2016). Girl Unbroken has also been integrated into college curricula alongside Etched in Sand.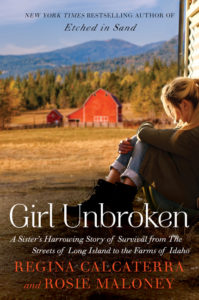 Etched in Sand's and Girl Unbroken's impactful messages include those of resilience, optimism and perseverance; how kind acts can forever impact a child in need; the vital role of the public library system, public education and the public university system on impoverished children; how educators can forever impact transient children; that no child is a lost cause; childhood hunger, poverty, abuse, abandonment & homelessness; the power of sibling bonds; risk of homelessness for young adults aging out of foster care parentless; determination to succeed regardless of social status; and breaking the cycles of addiction, alcoholism, child abuse, homelessness and incarceration.
Regina speaks nationally on issues related to foster care, specifically the plight of older foster youth and childhood poverty, abuse and homelessness.
[/trx_block]
[trx_block bg_color="#ffffff"][trx_columns][trx_column_item]
[trx_image url="3656″ align="right" width="400″ height="400″][/trx_column_item][trx_column_item]
Sister Simone Campbell has served as Executive Director of NETWORK since 2004. She is a religious leader, attorney and poet with extensive experience in public policy and advocacy for systemic change. In Washington, she lobbies on issues of peace-building, immigration reform, healthcare and economic justice. Around the country, she is a noted speaker and educator on these public policy issues.
During the 2010 congressional debate about healthcare reform, she wrote the famous "nuns' letter" supporting the reform bill and got 59 leaders of Catholic Sisters, including LCWR, to sign on. This action was cited by many as critically important in passing the Affordable Care Act. She was thanked by President Obama and invited to the ceremony celebrating its being signed into law.
[/trx_column_item][/trx_columns]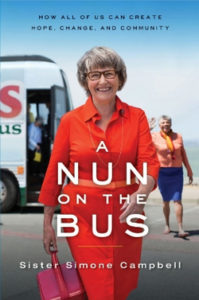 In 2012, she was also instrumental in organizing the "Nuns on the Bus" tour of nine states to oppose the "Ryan Budget" approved by the House of Representatives. This budget would decimate programs meant to help people in need. "Nuns on the Bus" received an avalanche of attention across the nation from religious communities, elected officials and the media. She then led a new cross-country Nuns on the Bus trip (May 28 through June 18, 2013), focused on comprehensive immigration reform.
Sister Simone has often been featured in the national and international media, including recent appearances on 60 Minutes, The Colbert Report, and The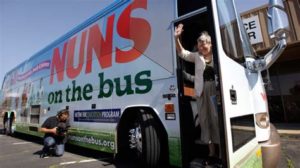 Daily Show with Jon Stewart. She has received numerous awards, including the "Defender of Democracy Award" from the international Parliamentarians for Global Action and "Health Care Heroes Award" from Families USA. In addition, she has been the keynote or featured speaker at numerous large gatherings, including the 2012 Democratic National Convention.
[/trx_block]
[trx_block bg_color="#ffffff"][trx_columns][trx_column_item]
[trx_image url="3703″ align="right" width="400″ height="400″][/trx_column_item][trx_column_item]
Dr. S. Atyia Martin has spent the last 16 years in federal and local government within intelligence, homeland security, emergency management, public health preparedness, and ultimately resilience. Prior to her career in public service, she worked in the private sector (for profit and nonprofit) in technology, business development, and administration. She has led many teams and major initiatives to consistently achieve their mission and goals while building the capacity of those around her to grow into their best selves.
Dr. Martin is currently the CEO & Founder of All Aces, Inc., a social enterprise that provides a range of products and services to put clients and participants in control of difficult conversations and situations. All Aces mission is to activate the power of consciousness and critical thinking to manage the ways our unconscious mind can interfere with personal and organizational resilience. Additionally, she serves as a Distinguished Senior Fellow at Northeastern University's Global Resilience Institute.
[/trx_column_item][/trx_columns]
Dr. Martin was the first Chief Resilience Officer for the City of Boston as part of 100 Resilient Cities. She led the development and implementation of Boston's first resilience strategy which was the first one in the 100 Resilient Cities network to make racial equity, social justice, and social cohesion the foundation of building resilience across the city. She engaged over 12,000 people across government, community, businesses, and nonprofits to develop Resilient Boston: An Equitable, Connected City. Smart Cities magazine selected Resilient Boston as the best resilience strategy of 2017 and the Center for American Progress featured it in its report A Framework for Local Action on Climate Change.
Prior to her role as Chief Resilience Officer, Dr. Martin was the director of the Office of Public Health Preparedness at the Boston Public Health Commission (BPHC). In this role, she was responsible for coordinating public health, healthcare, and community health emergency management including oversight of the Stephen M. Lawlor Medical Intelligence Center to coordinate response and recovery efforts; and education and training through the DelValle Institute for Emergency Preparedness. She led the expansion of the DelValle Institute from the greater Boston area to the entire Commonwealth of Massachusetts. Additionally, she increased their reach and capacity by facilitating the development and implementation of a learning management system to support in-person training and expansion into online learning. During her tenure, she led the public health and healthcare response to the Boston Marathon bombings, the winter snow storms of 2015, trolley crashes, train crashes, the Long Island bridge closure and evacuation, and dozens of smaller scale emergencies.
Her previous professional experience includes adjunct faculty in the Master of Homeland Security at Northeastern University; the Boston Police Department's Boston Regional Intelligence Center; City of Boston's Mayor's Office of Emergency Management; the Federal Bureau of Investigations (FBI); active duty Air Force assigned to the National Security Agency; and Initiative for a Competitive Inner City (ICIC).
Dr. Martin holds an Associate of Arts in Serbian Croatian from the Defense Language Institute (DLI), Bachelor of Science from Excelsior College, a Masters in Homeland Security Leadership from the University of Connecticut, and a Doctorate in Law and Policy from Northeastern University. Dr. Martin and her husband were born and raised in Boston where they currently live. They have five children, three still at home.
[/trx_block]
Ready to Apply to Join the Blue Ridge Leadership Institute?
[trx_block][/trx_block]
[trx_button style="border" align="center" link="http://blueridgeleaders.org/apply-here/" top="2.85rem" left="auto" right="auto"]Join BRI Today![/trx_button]