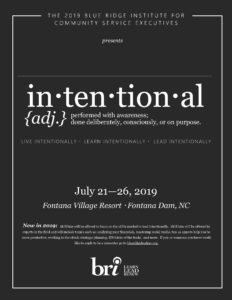 Request for Proposals
The Blue Ridge Institute for Community Service Executives (BRI) is seeking proposals for skill lab facilitators for its annual conference held July 21-26, 2019 at Fontana Village Resort, Fontana Dam, NC.
The BRI is a non-profit organization formed in 1927 to provide education, recreation, and support for executives working in the community service field.  The group hosts an annual conference each year during the last full week of July.
The 2019 conference theme is "Intentional" and focuses on these themes:
How do those of us who lead work in the community service field "live intentionally" regarding how we manage our own time, family, resources, etc.  Often times, those who serveothers, take care of their own needs and those of their family last.  Planning for retirement, planning for rest from work, planning for when it's time to leave a position, managing the chaos in our own families, and others will be the focus.
How do we as leaders "learn intentionally?" What skills do we need to do our work more effectively?  What skills are worth thetime and resources?  What skills do we need to update due to the rapidly changing world we work in?
How do we as community service executives "lead intentionally?" What does intentional leadership look like compared to a more organic approach to leading?
For these concurrent skill labs, we are looking for both practical, hands-on experience and higher-level presentations.  Sessions will be limited to one hour and may be offered more than one time.
Presentation proposals are due by November 1, 2018 and can be submitted online, or email with the subject line "Conference Proposal."
A successful proposal will show how a presentation will:
Demonstrate proven results.
Articulate lessons learned—including concrete examples of what worked, and what did not.
Provide tangible takeaways, so audience members can put good ideas to work right away.
Relate or be of strong interest to our conference participants and to the theme if your proposal is accepted.
Other Information
BRI is a nonprofit organization. We do not provide honoraria, lodging, or reimburse travel for presenters.
In order to keep costs low, BRI does not provide presentation equipment for skill lab presenters.  Selected presenters should be prepared to provide all necessary presentation equipment such as laptop, projector, etc.
Skill lab presenters may sell or promote products as part of their skill labs as appropriate.