by Guest Blogger, Ameila Alfiero
Hello! My name is Amelia Alfiero, and I like to do a lot of things for the community. I was born into a caring family; my mom founded and ran a nonprofit business to help people with disabilities enjoy the arts. So, it was easy for me to find joy in helping others, as I grew up around people caring about other people and saw kindness on a daily basis.
This blog post got me thinking about what community service is and why it is important. I moved to a new elementary school at the beginning of 4th grade. Immediately I signed up for Girl Scouts, and we began some service projects for our community — many that had to do with literacy.
As I think about the different community projects that I have completed in my time at my elementary school, they seem to break into several categories:
Access to literacy
Assisting students with disabilities
Assisting others with food donations
Creating a daily in-school Study Buddy program
Since the 4th grade, I have volunteered in a program for students with disabilities two days a week. Those days are Thursday and Friday. I enjoy hanging out with the kids. I probably have way more fun than they do participating in the counting songs with them on the iPad. I get motivated to keep going to visit because I love all the smiles I get to see. Once, I even got to go to the library with them and listen to a read aloud. I felt part of a group and I hope they felt the same way. Community Service is about being part of a group and doing good deeds for others — something I feel our world needs a whole lot more of.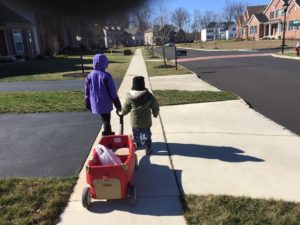 For my church, I organized a neighborhood food drive and collected over 100 pounds of food worth a value of $147. I learned from my local food pantry that a lot of families suffer from what is called "food insecurity". This means that families struggle to know if they have enough money to buy food each week. I personally want to continue making sure that my neighbors always have enough food. This will be a focus for me when I start going to my middle school in August.
In the 5th grade, I started a Study Buddy program with some other friends. For a few months, we helped 4th graders with their math and spelling. This program was a big success, and helped me earn the Boomerang award. Unfortunately, it had to end abruptly. It was part of the school policy to have adult supervision, and for months I was running the program with some of my 5th grade friends. When the administration realized this was a risk, our program ended.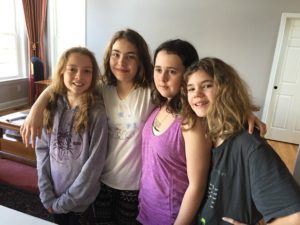 Finally, I help volunteer with a nationwide literacy program called Bess the Book Bus. This mobile bus is stocked with books, and comes to our county every year. I help the founder, Jennifer Frances, give out books to kids in my community which raises awareness about the importance of reading.
Community Service is about giving back. It is about continuing to be motivated to help people and to find the joy in doing good. I plan to continue with my service at my next school, and to find new and different ways to be useful and contribute to a better world. Imagine if all the kids at every school did this! We'd solve many of our world problems with this multiplication of good!